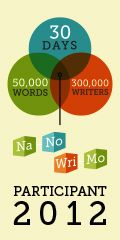 So, it's been
forever
since I've updated this thing I call a journal, and while there hasn't really been a lot going on in my life that needs to be rehashed here for everyone to read, I thought I'd give you all a little update about that crazy writing thing I do every year: NaNoWriMo. I wasn't going to participate this year because I always spend the first week or so not writing and berating myself for not writing, then I kick myself into action around the second week and write like a maniac, only to wind up with 50,000 words of an unfinished novel that I just shove into a corner, reassuring myself that I'll dust it off again one day.
Well, not this year! This year, I'm taking a step back from worrying about original characters and publishing and all that jazz. This year, I'm writing fanfiction. I know, I know, it's not getting me any closer to my goal of being a published author, but hey, if somebody can take Twatlight fanfiction, publish it and have it shoot to number one on the charts or whatever, maybe there's hope for Avengers/MI:4 high school fic, right? Right?
Eh, if nothing else, it'll be fun to write, and that's ultimately the goal of NaNoWriMo.
What's that? You want to know the plot of my novel? Oh! Well, I'm glad that you asked.
( Take a venture behind the cut to find out, my pretties... )
Drat! I didn't make any posts in October, so I missed the chances to use my Halloween sigtags and blinkies, sob.
Oh well. I'm gonna use them now anyway. Ahahaha

Credit goes to

adorablexi